CREATING SAFER ENVIRONMENTS

SECURalert ™ is an affordable enterprise wireless panic button system to protect workers in duress.


Previous
Next

We understand that your employees are your most valuable assets and keeping them safe is your top priority!
SECURalert™ is trusted by the most recognized hotel brands across the United States and Canada. It is deemed as the best solution to meet and exceed local hotel legislation and requirements.
SECURalert™ is a wireless duress solution that creates a safer environment for hospitality staff. With a simple click of the personal transmitter worn by the employee, the device identifies the distressed individual in real-time and effectively notifies respondents of their exact location. SECURalert™ combines ultrasonic technology with radiofrequency technology to deliver guaranteed accuracy every time. With the performance reliability of wireless power-efficient sensors and easy-to-use software, SECURalert™ is the right solution to protect hospitality employees from potential threats.
For More than 25 years
We have been creating state-of-the-art wireless duress and nurse call solutions. From Healthcare to Hospitality to Education, organizations of various sizes choose SECURalert ™ as their preferred provider.
100% of SECURalert™
products are designed, manufactured, and tested in North America
More than 2800customers
around the world rely on our technology. More than 92% of first-generation SECURalert ™ solutions are still in function today, 20 years later.
150 of combined experience
makes us stronger and gives us unparalleled competitive advantages
Wireless technology is challenging to harness and with our expertise and dedication to safety for the past 25 years, we have set the standard for the industry. A sound solution should operate on a stand-alone network with dedicated transmitters, and not rely on WiFi. Mobile notifications and apps should only enhance an internal solution. All SECURalert ™ transmitters are wireless and do not require any cabling thus minimizing any disruption during implementation.Our solutions are cost-effective and built for deployments of any size. We proudly serve hotels, hospitals, correctional facilities, and educational workers in North America for more than 25 years. Our system is also useful for applications in factories, laboratories, banks, offices, cinemas, shopping malls, and more.
We will be glad to assess your needs
"They took the time to LISTEN to our issues and managed to provide the right solution within our budget. We like the fact that we can add and expand our system whenever additional needs arises."
"Excellent Service, professional, and reliable. It really made a difference in our business."
"One of our colleagues was saved by this security system. Without it, who knows what could have happened!"
Installation went on schedule, but asked for some upgrade which took longer but overall very pleased with it. No major calls to respond to so far, simply staff understanding the panic button. System being installed on a 7 stories. Professional and reliable company to work with."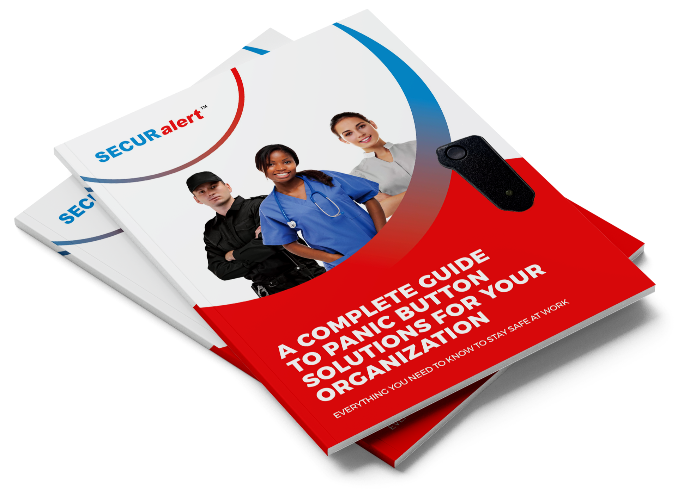 A COMPLETE GUIDE TO PANIC BUTTON SOLUTIONS
---
EVERYTHING YOU NEED TO KNOW TO STAY SAFE AT WORK
Download our comprehensive guide to help navigate the world of Wireless Duress Solutions.