WIRELESS DURESS SYSTEM FOR HOSPITALITY STAFF




PROVIDE THE PROTECTION YOUR STAFF DESERVE WITH SECURalert™.

Previous
Next
We understand that your employees are your most valuable assets and keeping them safe is your top priority!
SECURalert™ is trusted by the most recognized hotel brands across the United States and Canada. It is deemed as the best solution to meet and exceed local hotel legislation and requirements.
SECURalert™ is a wireless duress solution that creates a safer environment for hospitality staff. With a simple click of the personal transmitter worn by the employee, the device identifies the distressed individual in real-time and effectively notifies respondents of their exact location. SECURalert™ combines ultrasonic technology with radiofrequency technology to deliver guaranteed accuracy every time. With the performance reliability of wireless power-efficient sensors and easy-to-use software, SECURalert™ is the right solution to protect hospitality employees from potential threats.
Hotel Safety
Hospitality operators manage millions of interactions every day. Staff in hotels, cruise ships, and theme parks are often separated from their coworkers and work in remote or unsupervised areas of the property, exposing them to potentially harmful events. Using an enterprise duress alarm system that offers precision can help mitigate risks.
SECURalert™ Hybrid solution can specifically identify the person in distress and the precise location of that person in any environment. Events are communicated effectively and instantly in high-stress situations
ADDED SECURITY MEASURES FOR HOTELS
PROVIDE THE PROTECTION YOUR DEDICATED HOSPITALITY WORKERS DESERVE WITH SECURalert™

















WIRELESS PANIC BUTTON
The SECURalert™ panic button transmitter is small and can be worn as a watch or on a lanyard, with up to four weeks run time on a single charge. Alerting others for assistance has never been quicker or more accurate




PROMPT ASSISTANCE
Because of the SECURalert™ wireless duress system's ease of use, pinpoint accuracy, and redundancy, you can rest assured that help will arrive exactly where it is needed. With a simple click of the personal transmitter worn by the employee, the device identifies the distressed individual in real-time and notifies respondents of their exact location




EMPLOYEE LOCATION
The receiver is a small, ultrasonic device mounted on the wall of each room. We offer several models of receivers, including the popular battery-powered receivers that can be installed in minutes without needing to rewire the building. Batteries last an average of 5 years, and each receiver monitors its own battery status and sends a low battery notification to the main controller.




MITIGATE RISK
Take action today and prevent an incident before it happens. Supplying your hotel staff with a portable personal emergency transmitter can help prevent a dangerous situation. Increase employee retention and prevent your staff`s burnout by providing a safe and healthy work environment. Protect your staff and your hotel`s reputation.

A Supervised Wireless Duress System is the best choice!
---
When it comes to choosing a wireless duress system for your organization, it's important to note that not all solutions are the same. You have to consider whether the solution is a supervised or unsupervised system. SECURalert™ uses a supervised wireless duress system, which means that when the panic button is activated and an alert is sent, both the automated system AND an actual person are notified. Do you want location accuracy and prompt response? Do you want your system to operate on its own independent network vs relying on WiFi or a 3rd party provider? All of this and more to consider when making a decision to install an employee panic button system at your facility.
SECURalert™ is a comprehensive system that offers the above features and more. This makes the SECURalert™ wireless panic button system a superior solution compared to any other duress system.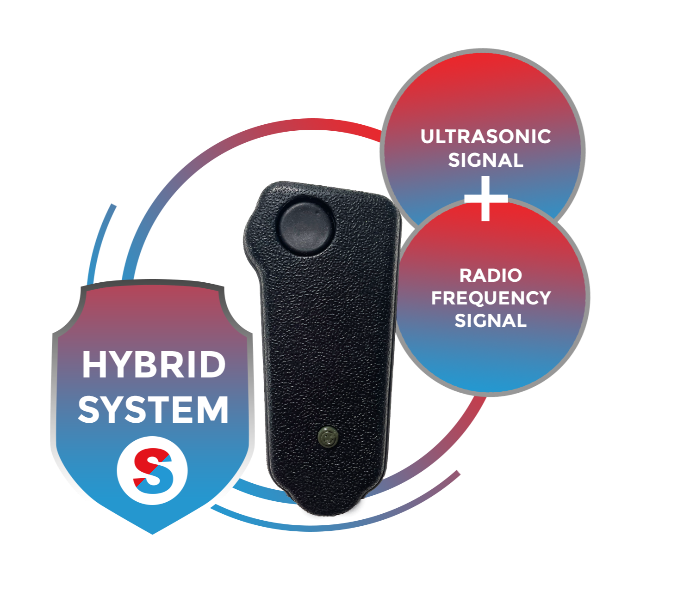 Gain the Advantages of Industry Leading Technology
---
Pinpoint Accuracy:
Location accuracy is the cornerstone of our wireless duress system. 99.9 % accuracy is achievable thanks to our first in its class Hybrid technology. The transmitter is the panic button itself, small enough to be worn or carried. It lasts up to four weeks on a single charge or for 16 months at a time with battery-powered models. The two signals are simultaneously sent after the button is pressed — ultrasonic and radiofrequency, which creates SECURalert™ Hybrid system known for its location precision.
Independant Work
One of the many challenges other panic button systems creators are left to deal with is their dependency on WiFi. Our own dedicated network will never be dependent on or require Wi-Fi, cellular, GPS, or 3rd party providers' support as this increases the risk for delays, failures, and potential crisis management. Our solutions are built to life safety standards. Our unique and distinctive Hybrid Radio Frequency layered with Ultrasonic technology gives us tremendous competitive advantages for flexibility and scalability in working with a variety of industries.
Reliable Signal Transmission
SECURalert™ uses radiofrequency and ultrasonic signals which create our unique and distinctive Hybrid System. This in turn delivers the exact location the panic button was triggered in, all within seconds, therefore reducing response time and ensuring the individual in distress gets help right away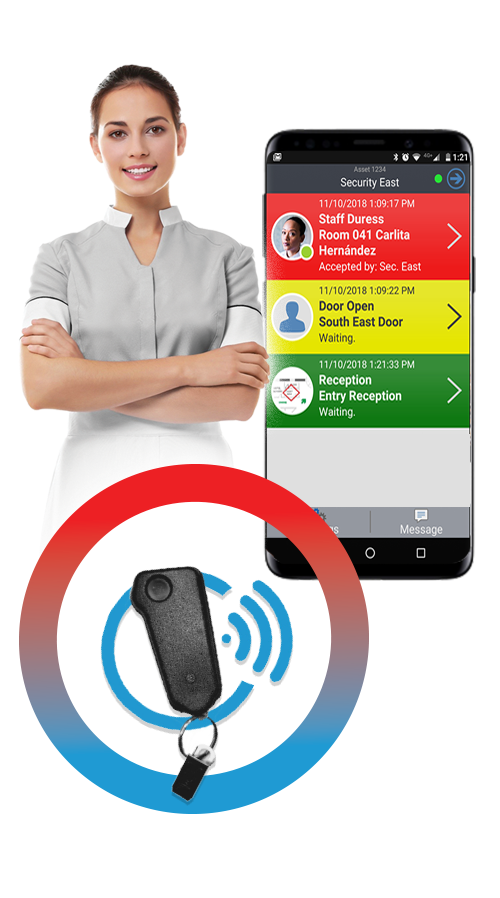 WHAT MAKES US DIFFERENT
SECURalert™
Precision
Redundant Technology
Bi-directional Transmitters
Built-in Automatic Check In
Embedded Test Button
Fully-supervised system
Self-healing standalone solution
Low-Cost Wireless Implementation
OTHERS
Variable Accuracy
No Redundancy
1-way Transmitters
No Accountablity
No Test Functions
No Supervision
Multiple Points of failure
Higher Cost of Implementation and Ownership
WHY CHOOSE SECURalert™?
By providing your employees with SECURalert™ panic buttons and installing the supervised wireless duress system, you effectively protect your hotel, your staff, and your reputation. Our hospitality panic button system uses unrivaled, industry-leading technology with pinpoint accuracy and guaranteed response, all at an affordable price. There is no reason to risk your hotel failing to meet your state`s requirements. Take proactive action and ensure your hotel staff's safety with SECURalert™.

AFFORDABLE
Unrivaled service and exceptional value at a price that won't shatter your hotel's bottom line


SURE RESPONSE
Instant notification and prompt response, thanks to a supervised wireless duress system


UNRIVALED TECH
Industry-leading technology, combining 4 key components working together

HTING Staff Alert Devise Buyer's Guide
---
SECURalert ™ worked with Hospitality Technology Next Generation (HTNG) and other hotelier and vendor members to author this Staff Alert Device Buyer's Guide. This guide aims to assist hoteliers determine the right questions to ask when embarking on a search and selection process for safety devices