XtendCall™
INTEGRATION & MOBILE PLATFORM
This advanced integration platform enables connectivity and alarm management of SECURalert's™ wireless duress solutions and 3rd party systems such as security, communication, PMS (Property Management Systems), fire alarm, and many others. XTendCall™ also provides unified reporting and extends notification to its mobile app and other wired and wireless devices.
Receive accurate room level locations and updates in real time when used with SECUREalert's solutions.
Easy to read large text for alarms and messages with audible and vibrate functionality. Sound and vibrate pattern are determined by the urgency of the alert.
Automatic call back feature to communicate with enabled audio/mobile devices without having to look up phone numbers or extensions
Accept alarms. The app indicates to the other users who is responding in the same work area.
Alerts and response times are recorded for reporting and team leader follow-up.
Supports internal or external roster and automated escalation systems. Alerts can also be manually escalated from your mobile device for attention from senior staff.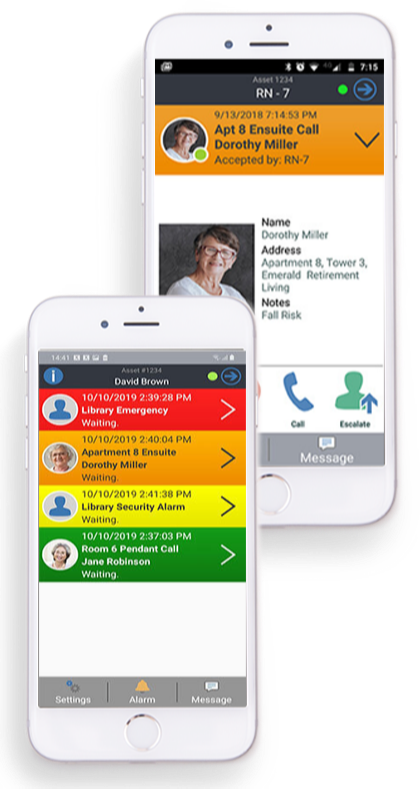 Video paging - Alarm notification with embedded video images. (Where available)
Send text messages to devices then receive a notification when the message is read.
Deliver emergency process and procedures directly to devices
A multi-line, the multi-colored display gives a clear indication of the alert priority and all the information a staff member needs to respond to the event.
Manage alerts internally and/or externally.
Multi-user login is available on a role base or schedule on any device. Devices can also be locked to a single user.
All stored configuration data is encrypted, no data is stored on the device.

ADDED SECURITY MEASURES FOR HEALTHCARE FACILITIES
Provide the protection your dedicated healthcare workers deserve with securalert™
Wireless Panic Button
The SECURalert™ panic button transmitter is small and can be worn as a watch or on a lanyard, with up to four weeks run time on a single charge. Alerting others for assistance has never been quicker or more accurate

Prompt Assistance
Because of the SECURalert™ wireless duress system's ease of use, pinpoint accuracy, and redundancy, you can rest assured that help will arrive exactly where it is needed. With a simple click of the personal transmitter worn by the employee, the device identifies the distressed individual in real-time and notifies respondents of their exact location

Employee Location
Alerting others for assistance is only helpful if the individual under duress is quickly located. Large hospitals and healthcare facilities of more than 100 rooms can be difficult to navigate, so pinpoint accuracy is paramount

Mitigate Risk
Take action today and prevent an incident before it happens. Supplying your medical staff with a portable personal emergency transmitter can help prevent a dangerous situation. Increase employee retention and prevent your staff`s burnout by providing a safe and healthy work environment. Protect your medical staff and your hospital`s reputation.